About Adya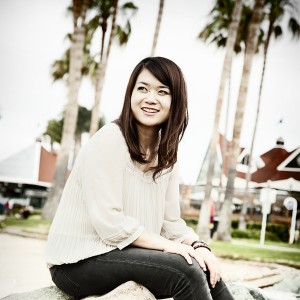 Adya was born and raised in Chiba, Japan where she started piano lessons at the age of three. Then, by nine, the focus shifted to classical piano training.
Listening to English pop records allowed her to develop her vocal capabilities naturally; being eager to sing along to her favorite tunes which lead her to study voice at Berkeley School of Music in Boston, Massachusetts.
Upon her return to Japan from the U.S., Adya started performing with her own jazz quartet in Tokyo and Chiba. In 2009, she met music producer G. Nii Amon Ashie while performing at a hotel piano bar singing Carole King songs, flawlessly. Critics have tagged her sound as an Urban Organic Jazz sound, reminiscent of early 70's funk with smoldering jazz instrumental solo's.
Nii Amon took Adya under his wing and began to co-write with her. They have subsequently arranged several songs, released 2 EPs and are geared up for her compilation album release. One of the songs from those first originals, 'Long Goodbyes' was released in November of 2012 on her label's compilation album 'Obonu Music: urban 1.0'. Adya's first Japanese language single titled 'Lonesome Town' was recently released on June 6, 2015.
千葉県生まれ、千葉県育ち。彼女の音楽人生は3歳の時、ピアノレッスンを受けることから始まる。9歳になる頃に は本格的なクラシックピアノの指導を受ける。
洋楽ポップスに親しみ、お気に入りの曲をカバーすること に夢中になるにつれてボーカルに興味を持ち始める。英語の曲を歌いたいという思いで、のちにアメリカ・ボストンにあるバークリー音楽大学へ留学。
日本へ帰国後、自身のジャズバンドで東京・千葉を中心に演奏活動を始める。 2009年、ホテルのピアノバーでCarole Kingの曲を演奏している時に音楽プロデューサーの G. Nii Amon Ashieと出会う。批評家により、情熱的な Jazzソロに加え70年代前半の Funkサウンドを思い起こす Urban Jazzバンド、と評価される。
Nii Amon は生活面でもAdya の世話をしながら、ファーストアルバム作成のための6曲を共同合作し、初回リリースされたLP、「May I?」に5曲を収録。6曲目の「Long Goodbyes」はObonu Music のアーティストによるコンピレーションアルバム「Obonu Music : Urban 1.0.」に収録され2012 年11 月にリリース。また、初の日本語曲「Lonesome Town」が2015 年6 月6 日にリリース。
Lonesome Town
Song For You